This Easter many of us will be confined to our homes so here are some awesome Easter crafts to work on. I particularly love the knitted daffodils! They will definitely cheer up the gloomiest day and that Easter bunny with his floppy ears is so adorable.
Confession time: I've never tried blowing eggs then decorating them, but I'm fired up to give it a go this year. I really love the idea of an Easter Tree with pretty hand-painted eggs hanging from the branches.
Below, I've gathered some gorgeous projects from around the web sourced from some beautiful websites, so if nothing else you may find some wonderful websites to bookmark.
This is a wool retailer's website but has lots of free knitting and crochets patterns including this cute duckling.
CLICK HERE FOR THE FREE PATTERN
Another gorgeous craft blog packed with beautiful images and inspiration for projects including this cute floppy-eared bunny.

You can get the pattern here.
I found this tutorial on this beautiful lifestyle/family blog. Doesn't this Easter Tree just look so cheerful? It's also super easy to make. The kids will love getting involved with this one.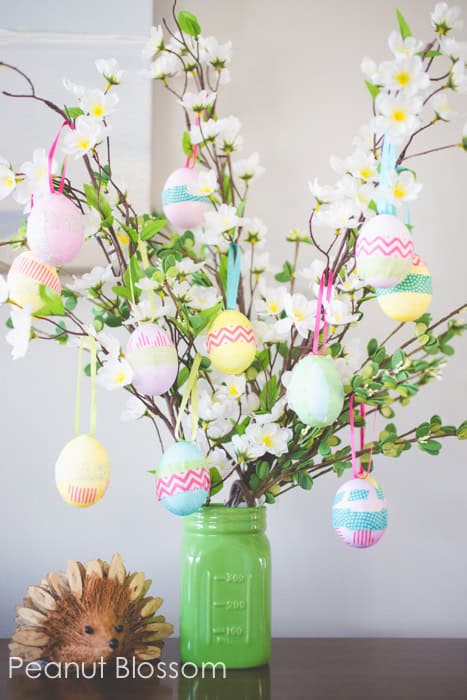 What I love about this project is that you could really let your creative juices flow and maybe incorporate some gorgeous Easter paper crafts, paper blossoms and ribbons.
Click here to go to the tutorial
As the name of this website would suggest, this is a foodie website with lots of delicious recipes and some mouthwatering images.
But I also found this Easter Tree tutorial which I'd love to try. But I'm going to have to adapt it slightly as there are no cherry blossoms here, unfortunately, but I can't wait to try and make some of the glue and cornflour Easter decorations. They look super simple to make and great fun to decorate. Get the instructions here
If you're into knitting or crochet you'll love this website full of beautiful yarns. And if you're just learning check out their "How To" section for some helpful tutorials.
I love these knitted daffodils. I don't think they should just be an Easter decoration. I'd have them on display all year round. You can download the pattern for free from Laughing Hen's website HERE
Let the kids have fun with this cute paper project and make a cheeky rabbit bookmark.
This project is a lot easier than it looks. These colourful hyacinths would brighten up a room at any time of the year.
Get the tutorial HERE
Some other blog posts you may enjoy