I've always considered myself a creative person so it's bugged me that I couldn't draw or paint. But it never occurred to me that it was something I could learn. I thought art classes were only for people who already had talent and wanted to improve their skills. I didn't think they'd be for people like me who didn't have the first idea how to draw.
Can You Really Learn How To Draw?
In my head I believed an artist was someone who could pick up a pencil or paintbrush and paint whatever they wanted without reference. If you asked me to draw a dog or cat from memory, my attempts would be laughable.
See what I mean?
This post may contain affiliate links. This means if you click on the link, I may receive a small commission at no cost to you. For further information, please read the affiliate statement here.
But, as I've only recently found out, that is not only wrong, but has stopped me from enjoying, what I have since discovered is, an immensely satisfying, calming and self-involving hobby. I now believe most people can learn how to draw and paint to a level that they find rewarding and fun, provided they're prepared to practice. You don't need any fancy equipment. Plain paper, a pencil and an eraser will get you going. In my sketches below, I also used a blending stump. Of course, once the bug bites you, you will probably want to enlarge your tool kit to include paint mediums (water colours, goache, oil paint etc), brushes, markers and coloured pencils.
My Secret Hack
Over the past year or so I have steadily been practising and improving my art skills using "how to draw" books, online tutorials and videos. Along the way another myth I've thrown out is that an artist never copies. In fact, most artists copy whether it's a live model in their studio, a photograph or a real-life scene. Some artists also use light boxes and tracing paper.
I created the portrait below by first tracing over the reference image to make a rough sketch then working with watercolours for the details. Think how cool that would be if you could use a similar technique to paint portraits of your kids or family? Is it cheating? I don't know, but frankly I don't really care either.
Another useful trick is to place a grid over your reference image then divide your drawing page into a grid with similar proportions. I find that helps me keep my drawing proportions right.
My Animal Challenge
Setting daily challenges is a good way to practice your growing skills. You can find many on Instagram. Try searching the hashtag #dailyartchallenge.
One of the challenges I set myself was to draw a different animal each day. I found reference photos in books, magazines and online. Each sketch was no more than 5 cms square (2″ square) and I tried not to spend long on each drawing. The end result was a selection of drawings I was, in the main, quite proud of.
Here are some of the results.
Whilst I won't be exhibiting my work anywhere it is very self satisfying to see my skills slowly improve. I also find a great sense of peace and calm when I practice art. It focuses my mind to the exclusion of all else so it's an excellent therapy.
There are many types of art from doodling to oil painting and everyone will have their favourite. At the moment, I'm enjoying learning digital art using Photoshop. For iPad users you can try creating art using apps such as Procreate or Adobe Fresco.
Learning Art Online – Resources
One of the first things I watched online which made me consider that learning to draw could be possible was the Ted Talk: "Why People Believe They Can't Draw". The presenter was a communications expert called Graham Shaw and within minutes he had me drawing fun cartoons.
There are thousands of videos on You Tube with tutorials about different types of art but my favourite learning source is Skillshare. They offer classes in subjects such as illustration, lettering, photography, writing, animation, design and so many more. The classes are split into bite-sized chunks so you can spend as much or little time as you want on them. You can also get full access to all their classes free for two months! (Click on the link below for further details)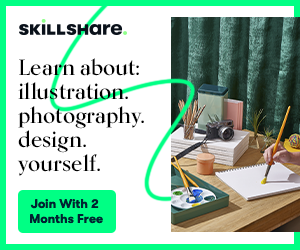 My favourite teachers are Charley Clements for digital illustration. Tom Froese for stylised digital illustration. Helen Bradley's Photoshop for Lunch series in which she provides short videos to help learn or improve on specific aspects of Photoshop. She also has similar classes for Adobe, Illustrator and Procreate.
Here are some of my class projects for these classes (links to the classes in the captions).
Charly Clements also occasionally has weekly challenges on Instagram with specific prompts. I love doing these as they really stretch my abilities and creativity to the hilt. Here are some of my attempts at her challenges posted on Instagram.
As you can see I am having a lot of fun with my new hobby. And for me, that's the main goal. I don't beat myself up when things don't work out the way I'd like, as happens often! But I'm discovering the more I practice, the more my confidence builds and I improve.
The only downside to all this is that it's so engrossing! Five hours can zip past in what seems like five minutes. Maybe the next prompts should be: messy house, overflowing laundry basket, starving family!
More Posts You May Enjoy